It was an amazing trip to MIT this week. I spent a beautiful three sunny days in Cambridge visiting friends and attending the Collective Intelligence 2012 conference. I was there to present my dissertation work (a little depressingly compressed into an 8-page paper and poster) to some of the smartest people I have ever met.
The conference was the first of its kind and hopefully will stand as the first in a long line to continue investigating how we work together in seemingly intelligent ways. The overview text from the conference website:
Collective intelligence has existed at least as long as humans have, because families, armies, countries, and companies have all – at least sometimes – acted collectively in ways that seem intelligent. But in the last decade or so a new kind of collective intelligence has emerged: groups of people and computers, connected by the Internet, collectively doing intelligent things. For example, Google technology harvests knowledge generated by millions of people creating and linking web pages and then uses this knowledge to answer queries in ways that often seem amazingly intelligent. Or in Wikipedia, thousands of people around the world have collectively created a very large and high quality intellectual product with almost no centralized control, and almost all as volunteers!

These early examples of Internet-enabled collective intelligence are not the end of the story but just the beginning. And in order to understand the possibilities and constraints of these new kinds of intelligence, we need a new interdisciplinary field. Forming such a field is one of the goals of this conference.

We seek papers about behavior that is both collective and intelligent. By collective, we mean groups of individual actors, including, for example, people,
computational agents, and organizations. By intelligent, we mean that the collective behavior of the group exhibits characteristics such as, for example,
perception, learning, judgment, or problem solving.

Topics of interest include but are not limited to:

human computation
social computing
crowdsourcing
wisdom of crowds (e.g., prediction markets)
group memory and problem-solving
deliberative democracy
animal collective behavior
organizational design
public policy design (e.g., regulatory reform)
ethics of collective intelligence (e.g., "digital sweatshops")
computational models of group search and optimization
emergence and evolution of intelligence
new technologies for making groups smarter
Invited Speakers
All the plenaries were excellent and nearly all the accepted paper sessions were strong as well. I began the conference a little in awe of the names walking so near me at a conference with a population of only 203. But the intimacy of such a setting allowed me to have hallway conversations and lunch(es) with some of the researchers I most admire in this interdisciplinary field.
I am tickled that my work will be found in the proceedings alongside such strong, visionary research.
The full proceedings are online at arXiv.org and freely available.
My paper is here: Collective Cognitive Authority: Expertise Location via Social Labeling
And the accompanying poster: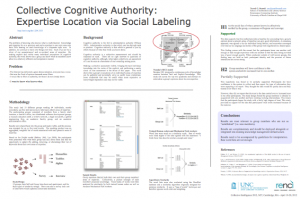 For posterity, I've included my tweets from during the conference:
19 Apr – walking through MIT campus for start of Collective Intelligence 2012 http://www.ci2012.org #ci2012
19 Apr – remarkable collection of interdisciplinary luminaries in this room. pleased to be here #ci2012
19 Apr – i'm a poster. RT @gegenhuber #ci2012: 104 paper submission, 18 for presentation, 16 for poster. Very diverse group.
19 Apr – nice trend so far of showing faces of named collaborators on slides #ci2012
19 Apr – remarkable work being done at http://icouzin.princeton.edu/ #ci2012
19 Apr – Anita Woolley (CMU) looking for 'c-factor', traits/markers that indicate who exhibit collective intelligence #ci2012
19 Apr – says Anita Woolley (CMU) "when sensitivity to signaling within the group is higher, CI is higher" (re: women, ants, etc.) #ci2012
19 Apr – listening to @YBenkler – he works on a different level. impressive. #ci2012
19 Apr – says @YBenkler "collaboration among diverse participants will benefit from structure, and could benefit from power" #ci2012
19 Apr – says @YBenkler "but power can undermine intrinsic motivation" #ci2012
19 Apr – Ian Spiro (NYU) et al have built a markerless motion capture tool using mechanical turk http://arxiv.org/abs/1204.3596 #ci2012
19 Apr – and the code is open! https://github.com/movementlab http://arxiv.org/abs/1204.3596 #ci2012
19 Apr – incredible. realtime crowds @msbernst – can bring in huge group responses in half a second using 'retainers' http://www.technologyreview.com/blog/arxiv/27763/ #ci2012
19 Apr – says @ipeirotis "brain functions are biologically expensive (MTurk workers want to use only their motor skills)" #ci2012
19 Apr – says @ipeirotis "confuse bad MTurk workers by punishing with unpredictable 'errors' (fake loading messages, 404s, etc.)" #ci2012
19 Apr – Bob Kraut (CMU) http://kraut.hciresearch.org/ discussing self/group motivation dynamics – how to get social identity to align group goals #ci2012
19 Apr – Bob Kraut (CMU) http://kraut.hciresearch.org/ says publicizing important community tasks helps align individual motivation with group goals #ci2012
19 Apr – .@jpom orig Woolley Science article https://www.sciencemag.org/content/330/6004/686.abstract – signaling part of 'social intelligence', made connection to ants today #ci2012
19 Apr – speaker @winteram on Group Identity, Culture, and Collective Intelligence and Social Learning #ci2012
19 Apr – speaker @rbmllr (MIT) showing a 'wickedly hard handwriting example', using iterative improvement MTurk HIT #ci2012
19 Apr – says Yahoo's @xeeliz "I'm interested in the collected as well as the collective. Are they the right data?" #ci2012
19 Apr – And I do love hearing @xeeliz speak – smart, funny, relevant, british #ci2012
19 Apr – Ed Hutchins (UCSD) talks about 'distributed cognition' – began by studying high-staked small groups (Navy ship navigation) #ci2012
19 Apr – Ed Hutchins (UCSD) says "What will happen when all airlines/pilots carry iPads instead of 30lbs of paper (maps/data)? Don't know!" #ci2012
19 Apr – .@benbendc asking "who are we?" to the community in the room "what do we want to do?" #ci2012
19 Apr – says @benbendc "We need a Large Social Collider" – demanding our Sputnik moment #ci2012
19 Apr – .@zittrain saying "significance of this room's expertise" … agreeing with @benbendc "this stuff matters" #ci2012
19 Apr – says @zittrain "we have a new unit/particle – 'cogs' in our field. both cognition… and cogs in a machine" #ci2012
19 Apr – says @zittrain "These arm's length markets… are laundering ethics" #mturk #ci2012
19 Apr – always book @zittrain as a final speaker. anyone having to follow would be depressed. #awesome #ci2012
19 Apr – .@zittrain writing a book this summer named "Cog" – hopes to offer solutions to our new realities of collective intelligence. #ci2012
20 Apr – speaker @ladamic discussing information diffusion in social networks. "How and how much are we influenced by our people?" #ci2012
20 Apr – says @ladamic "preference of viral social objects: true > funny > awesome > cute" #ci2012
20 Apr – says @cfchabris "simple response time for groups is second highest predictor for collective intelligence" #ci2012
20 Apr – says @cfchabris "turn taking in groups correlated with high CI, followed by social ability (Reading the Mind in the Eyes test)" #ci2012
20 Apr – says @cfchabris intelligence may be a property of all "species" of complex information processing systems #mice #monkeys #groups #ci2012
20 Apr – .@klakhani (Harvard Business School and NASA Tournament Lab) covering many examples of innovation contests #ci2012
20 Apr – Scott E. Page (Michigan) layering economic model math on Surowiecki's Wisdom of Crowds (diversity = inverse covariance) #ci2012
20 Apr – speaker @seydaertekin on predicting wisdom of crowds without ground truth to best use limited budget #crowdsense #ci2012
20 Apr – Yu An Sun (Xerox) speaking on dealing with when the crowd majority voting doesn't work, other methods, comparisons #ci2012
20 Apr – being controversial, @nikete w/ @mdreid on Crowd & Prejudice, and impossibility of crowd labeling without a gold standard #ci2012
20 Apr – Michael E. Roberts (DePauw) Group Foraging in Dynamic Environments, modeling group/food behavior #ci2012
20 Apr – Pavlin Mavrodiev (ETH Zurich) showing examples/models of non-independent opinions effecting 'wisdom of crowds' #ci2012
20 Apr – Ying Zhang (PARC) on thermodynamic principles in social collaborations – Wikipedia as thermodynamic system #ci2012
Thank you to everyone at MIT, CSAIL, the NSF, the Kendall Hotel, and the conference committee for a thought-provoking, inspiring, and tasty week.
Tags: boston - cambridge - ci2012 - collectiveintelligence - conference - expertise - mit
View blog reactions